Role:

UX/UI & Visual Designer, Product Strategist
Thicket is quiz-based learning & collaboration platform that helps teams and organizations make informed decisions, predict future trends, and build shared knowledge. Users join
Thicket
by taking learning quizzes that result in personalized insights and recommendations for individuals, and aggregated and anonymized insights for teams, groups and organizations. To date, Thicket has onboarded 15 organizations and over 275 member users in public health policy, civic tech and entrepreneurial incubators. 
As lead experience designer, I am responsible for leading the product brand, visual direction, design UI elements and patterns, and guide the development of new and ongoing features and capabilities through UX methods & testing.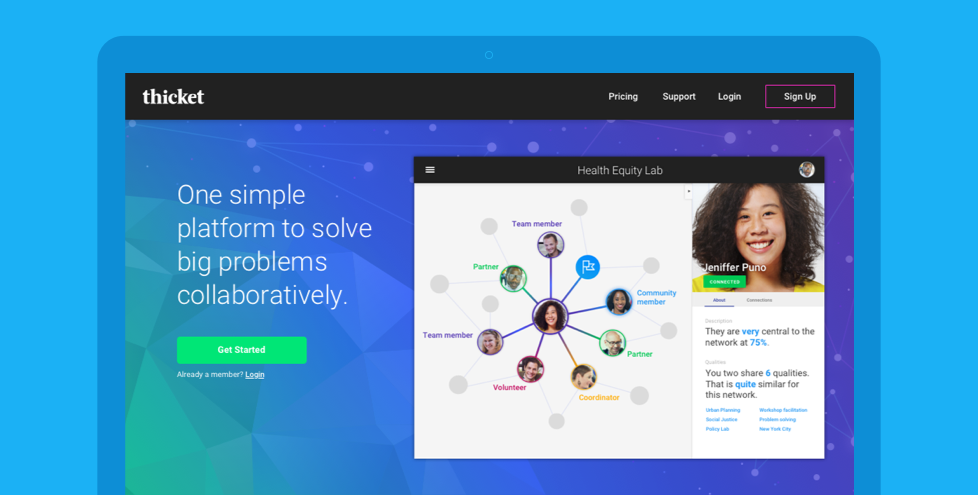 Designing a Data-driven Learning Experience
Thicket is a place to learn about yourself and how you relate to the world.
You can use Thicket to take quizzes, save your results, join learning networks, and connect to other people who share your interests. It was important to design an experience that allowed users to share personal data in engaging, versatile ways that incentivized quiz takers with immediate insights into their own personality and behaviors.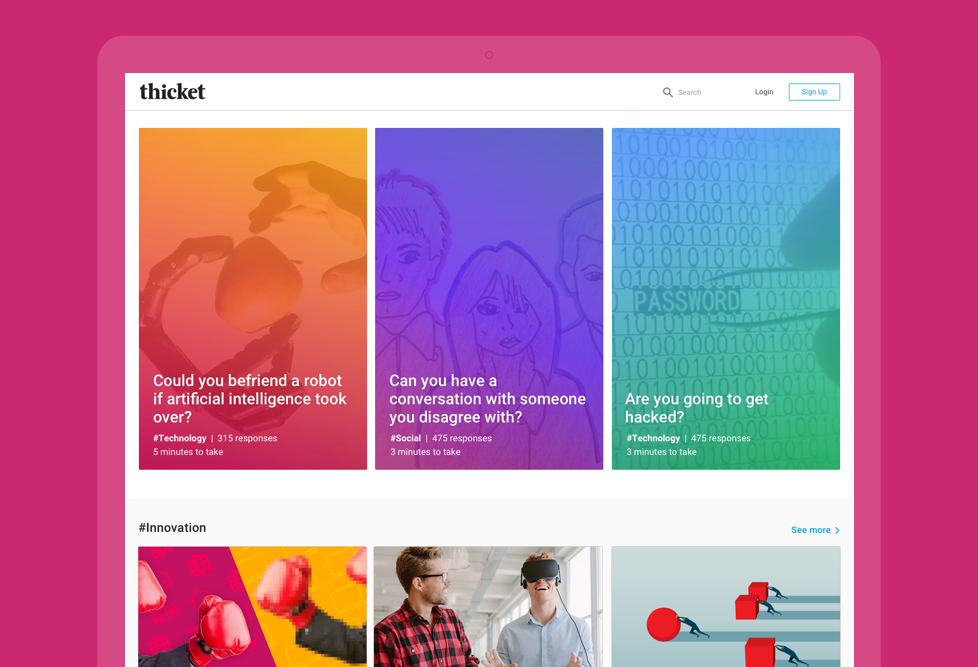 When it comes to collecting personal data, surveys are considered a necessary evil. However, survey fatigue and unconsidered interaction design cause measurement error, misclassification problems in data-collection and ultimately, user drop-off. During our research phase, we studied products and services that were both engaging to users and incentivized them with learning outcomes and personal growth insights. Education & learning products, such as Duolingo and Quizlet, break down complex learning tasks into gamified experiences with quiz-like user interfaces. These kinds of experiences give users the ability to excel at their goals at their own pace. Integrating this research into design principles turned our previously convoluted data-collection interfaces into more personal, engaging and elegant questionnaires that incentivizes users not only with data insights, but human insights.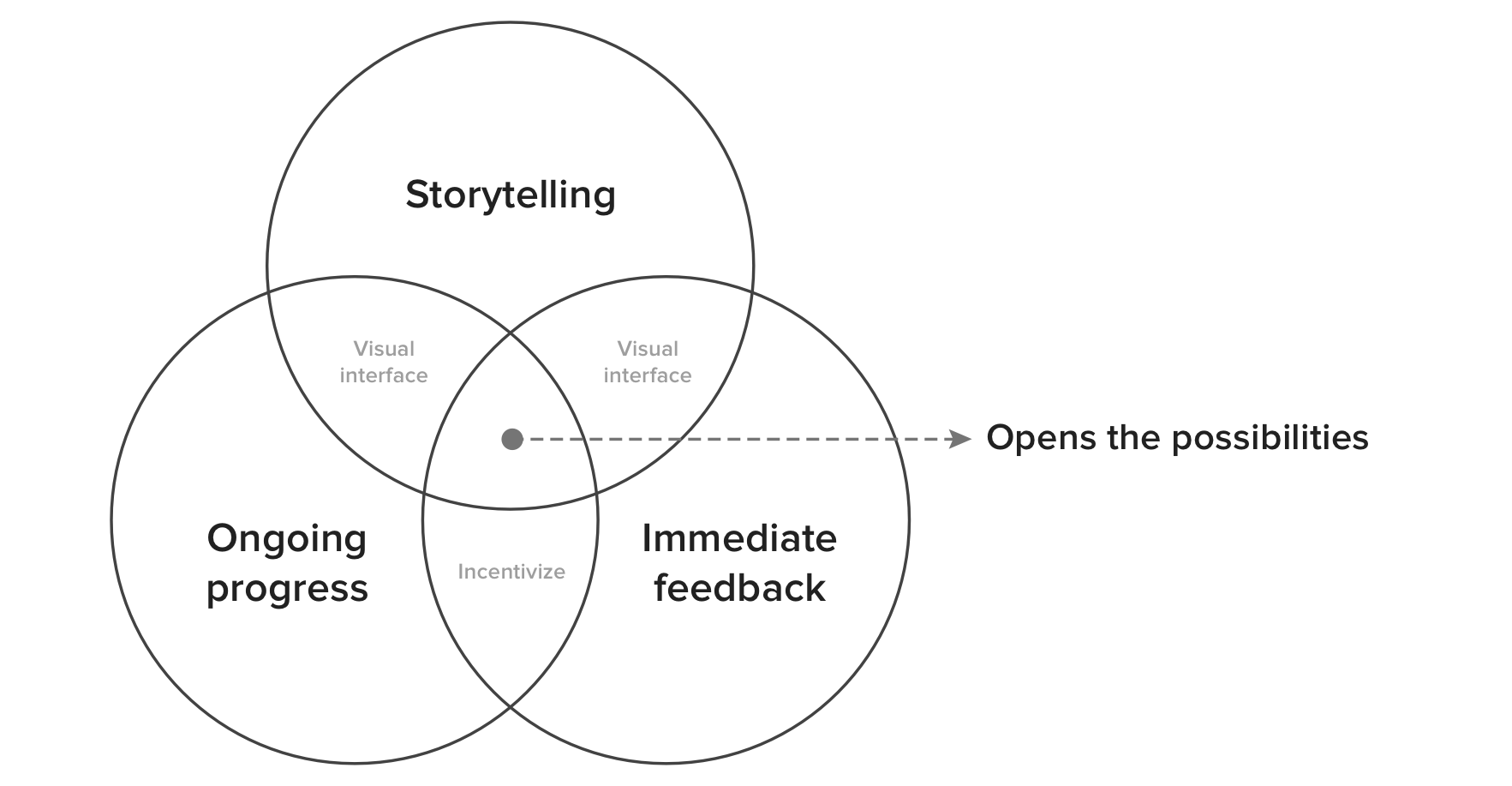 The design process and production timeline began with a UI wireflow. This was an essential tool for both product and development teams who needed to understand the flow of information between user entry on landing-level screens and more robust, analytics-driven sections. I choose to craft the map using modular wireframes to describe to the front-end team where similar UI patterns arose as well as clarify design decisions.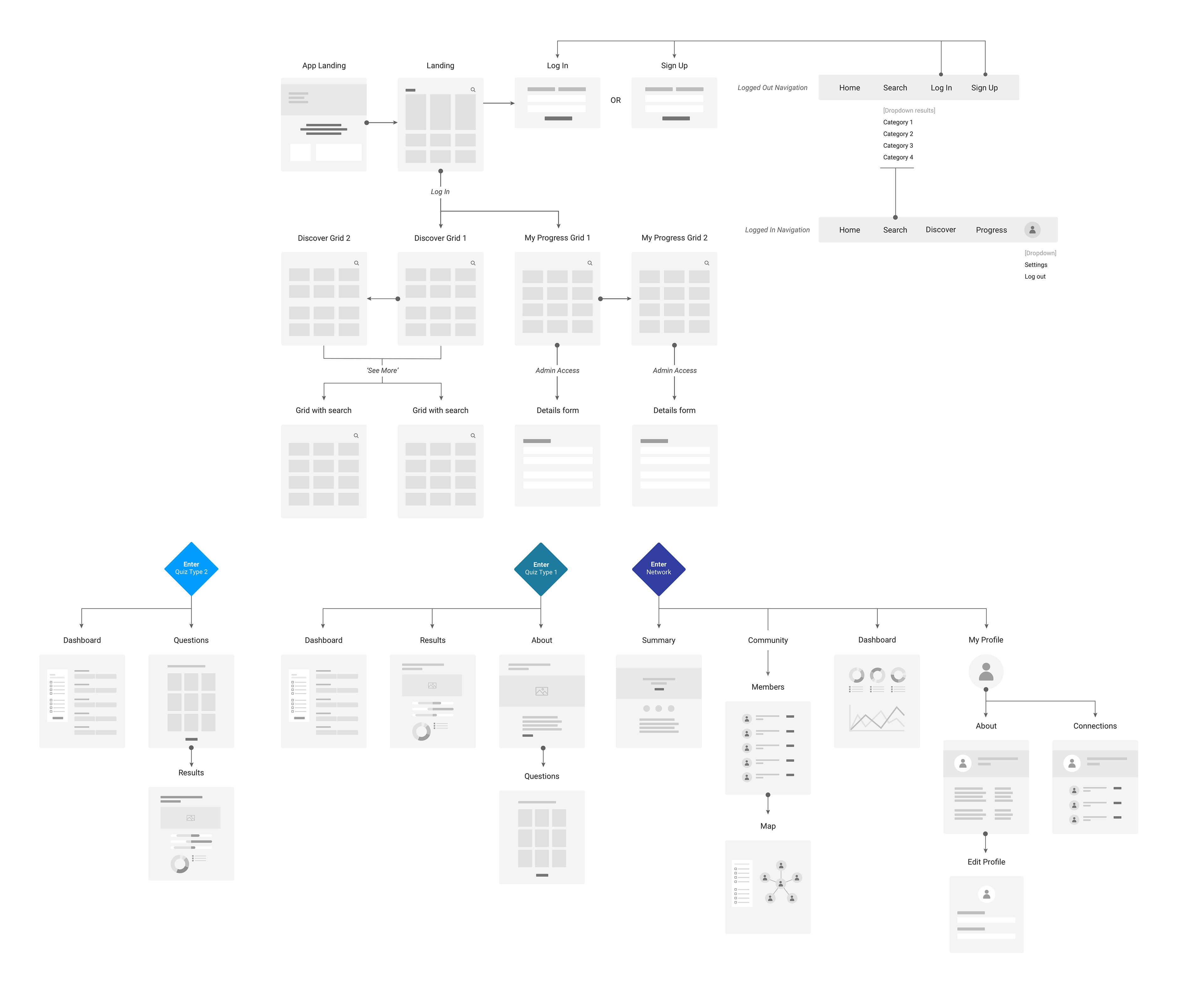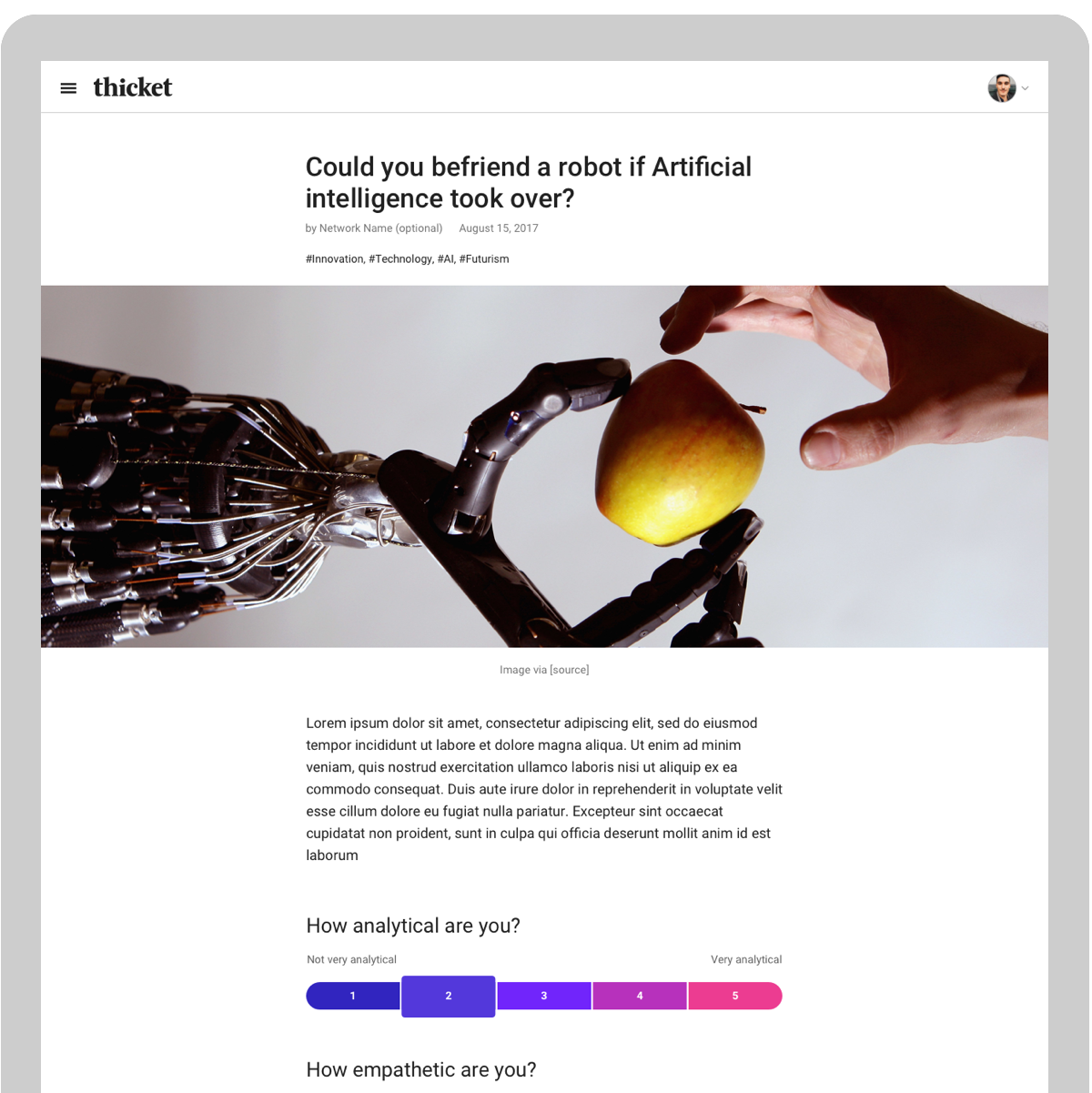 Question & Selection Interactions
Data-driven Results & Insights Interactions
Case Study:

Network-driven collaboration for a national health summit
Thicket supports teams with collaboration, networking and data-driven decision making features.
Networks use Thicket so that cross-functional stakeholders can connect with other members around similar interests and share industry knowledge.
In Summer 2017, The Center for Global Policy Solutions (CGPS) used Thicket to host their 300 plus Women's Wealth & Health Equity Summit network to support new policy agendas. Summit members signed up for Thicket to join the summit network, create member profiles and build a collaborative landscape of women's health equity by completing three digital surveys.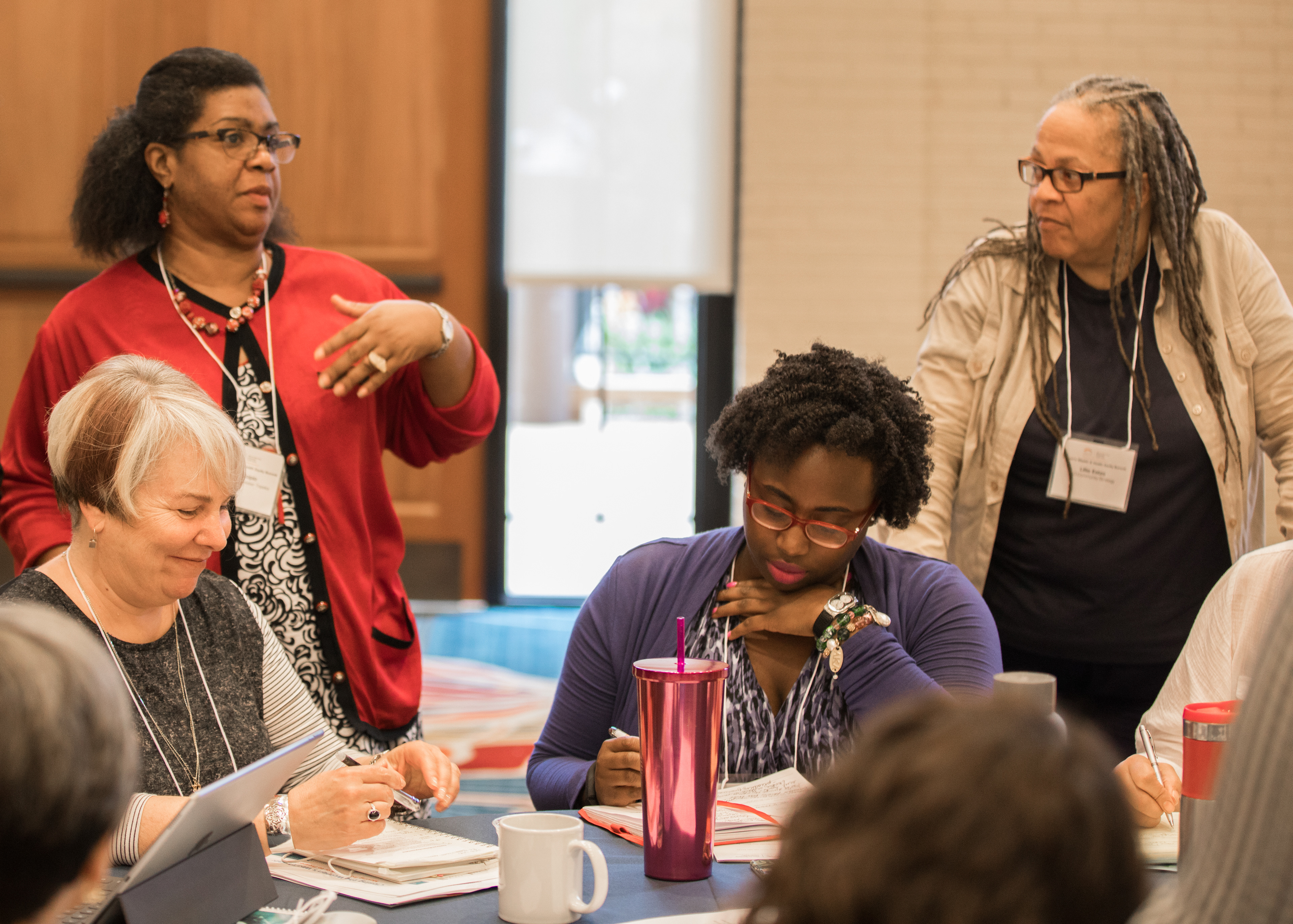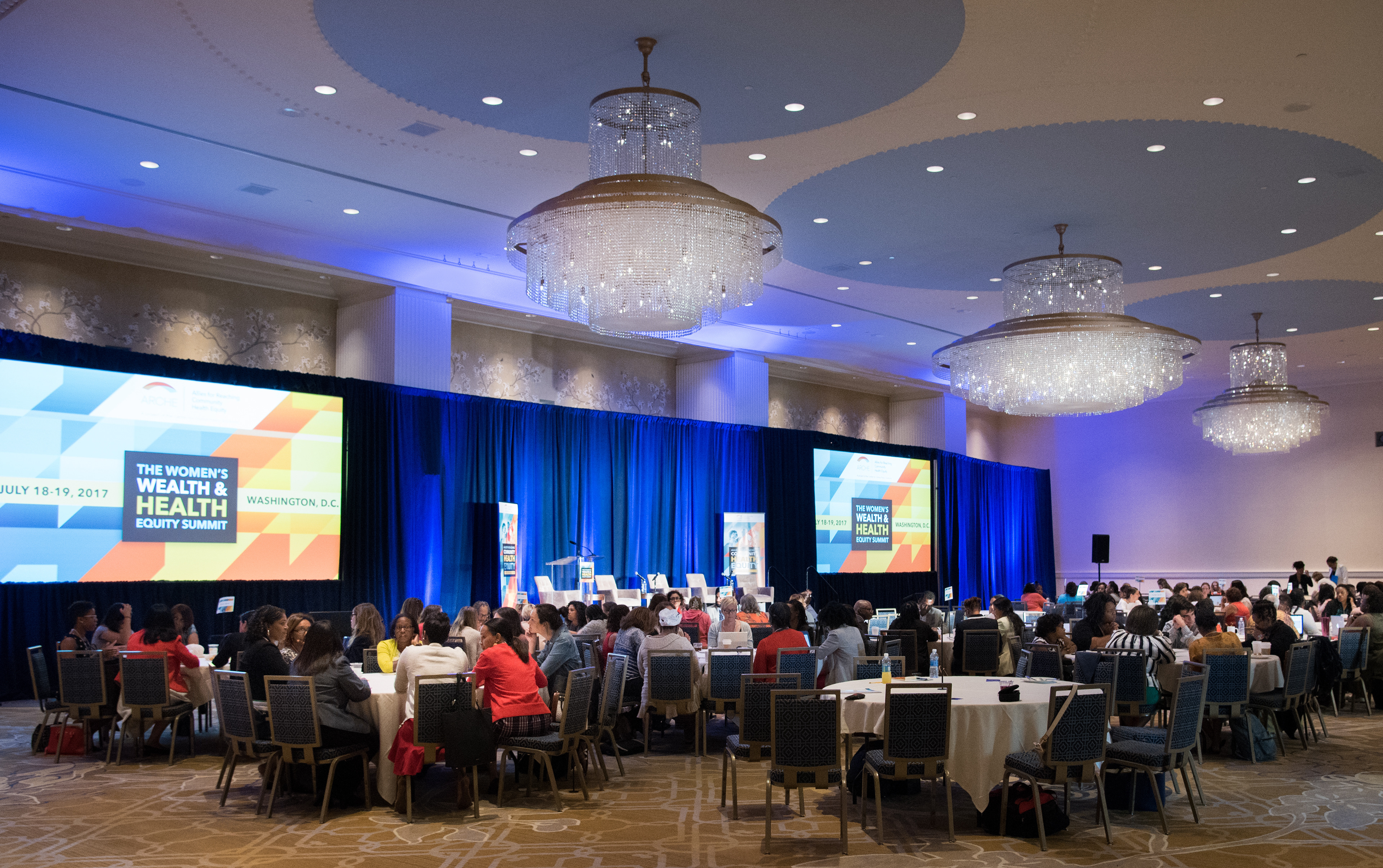 User Story & Onboarding Flow
To build a custom onboarding flow for the CGPS network, we began by creating user stories to help understand participant's primary priorities for using Thicket before, during and after the summit event.
"
I am a Summit Participant. As a user of Thicket, I would like to see other attendees in my network with similar practices and skills so that I can better collaborate at the summit.
"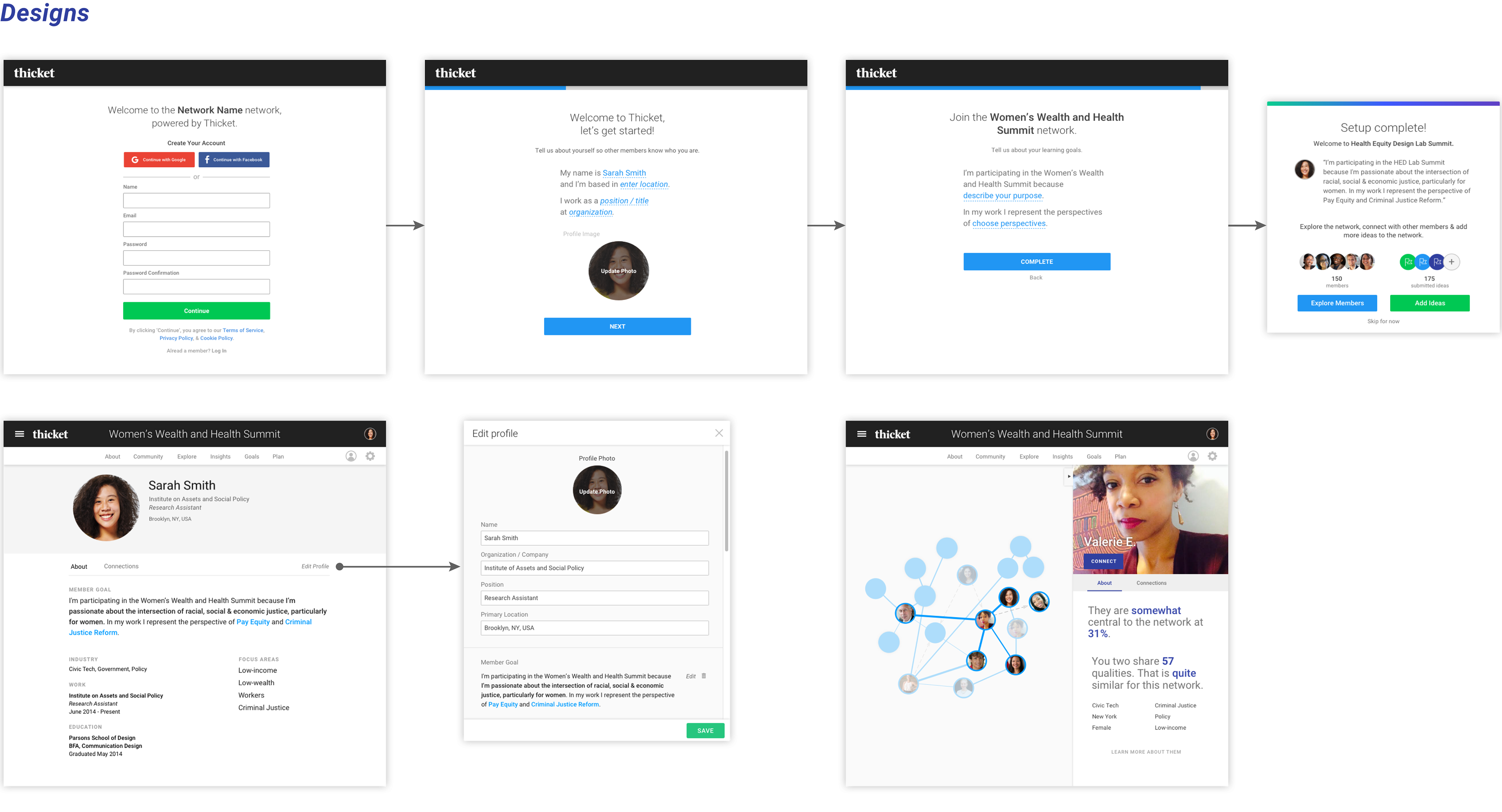 Visual Design & User Interface
Following UI principles like Google's material design system, clean visual standards and defined layouts and column structures create a flexible workspace essential for the scalable nature of ongoing quiz creation. Minimal colors are used around quiz & network imagery to make their placement prominent. Colors assigned to UI elements are associated with actions that lead users through tasks and flows.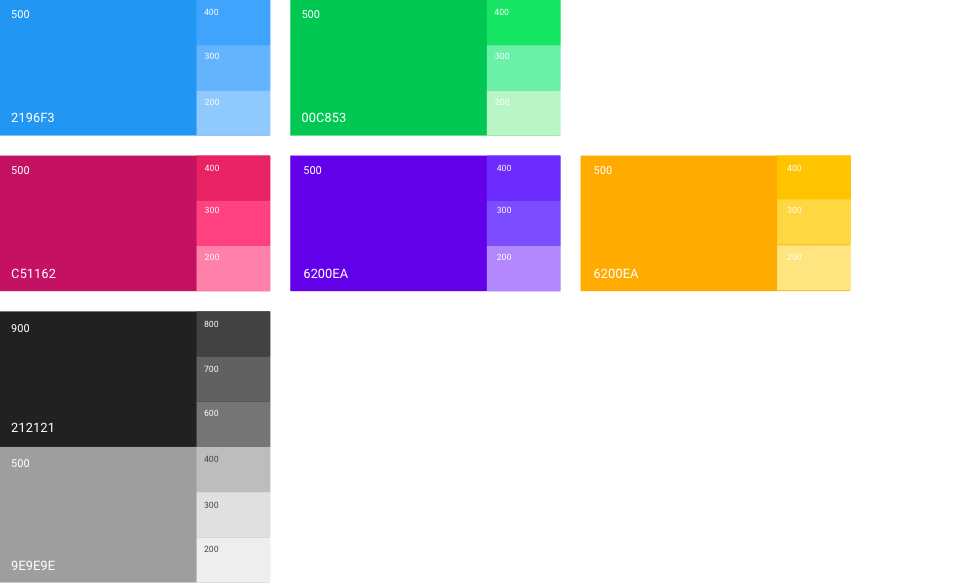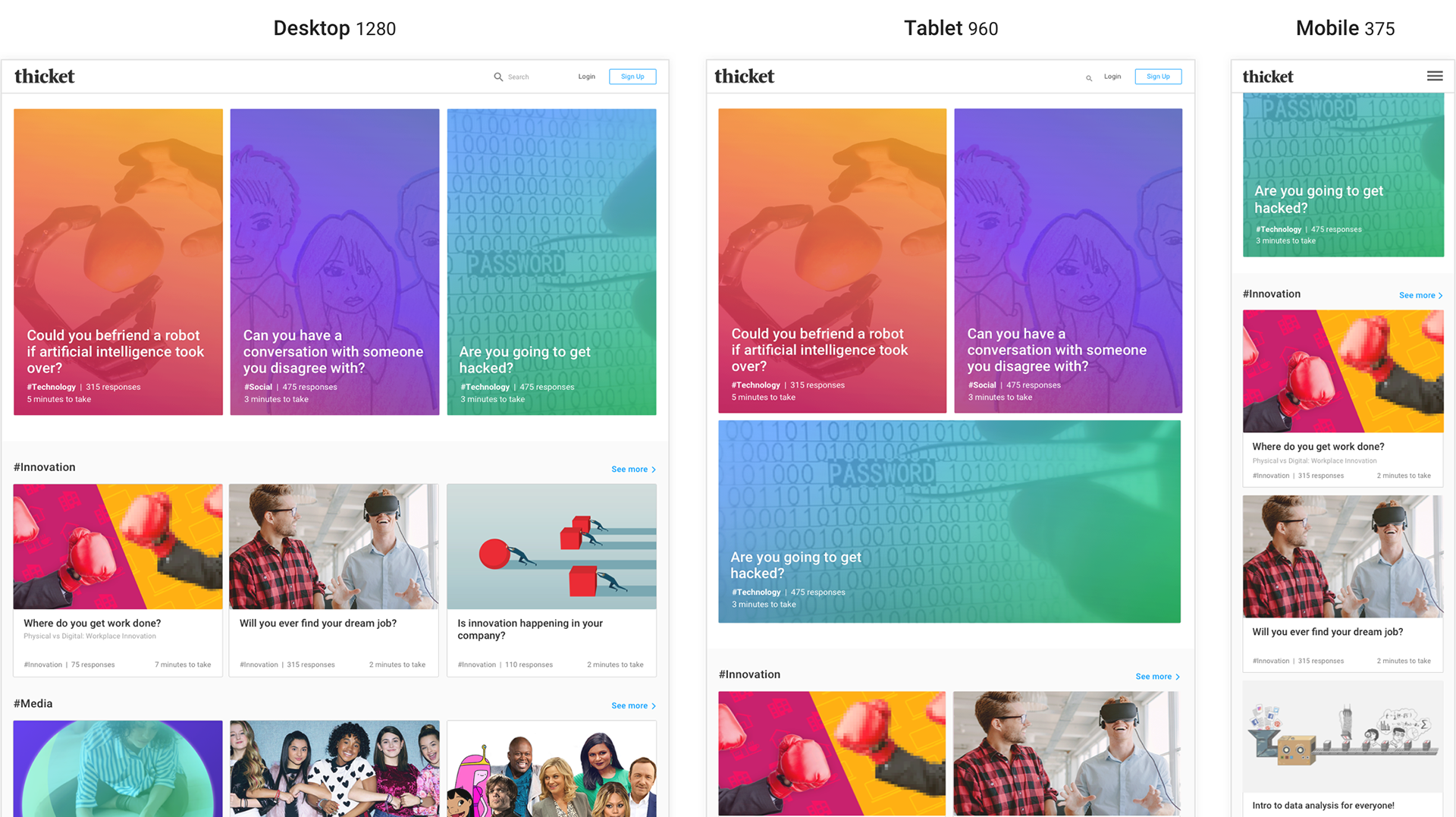 © 2017 Thicket Labs LLC All Rights Reserved