Client:

Google Computer Science in Media
Role:

UX/UI & Visual Designer
Many factors influence and inspire young people to pursue their dream careers. But can a TV show that positively portrays Computer Science and depict young women who code have the potential to reshape the tech industry now and in the future? As a study commissioned by Google CS in Media, Thicket Labs surveyed young TV viewers about their perceptions, affinities, and choices to evaluate whether watching the YouTube Red Original series
Hyperlinked
has an impact on their likelihood to choose Computer Science as a field of study or career.
Thicket found that
Hyperlinked
viewers are now 11% more likely to be interested in Computer Science careers than viewers who have not watched
Hyperlinked
.
As lead designer, I developed the user experience and visual interactions for two online quizzes used to capture viewer data for the study. Surveys were distributed to young TV viewers, reaching over 1,000 users over two months.
Designing engaging data collection experiences for young people
To find out to what extent
Hyperlinked
influences young girls' interest in pursuing computer science careers, we deployed two digital surveys – the 'Career Decision Quiz' to qualify an individual's likelihood to choose a specific career in the future, and the 'Audience & Identity Quiz' to understand how an individual is influenced by a character and storytelling choices.
As part of our distribution strategy, we partnered with the social network and lifestyle site for girls, Miss O & Friends, to advertise and directly link both quizzes to their 10,000+ member base. To drive even more users, quiz takers can share their results via social media platforms or direct email to others in their network. These wireflows show the journey between primary, secondary and ongoing entry points into the quizzes.
'Career Decision Quiz' wireflow:

'Audience & Identity Quiz' wireflow (with parent / guardian consent):

When designing a digital experience targeted to tween and teenage girls, it was important to choose visual elements that resonated with and felt familiar to our target audience. Bright colors, fun animations and the use of imagery and iconography helped create an entertaining and engaging experience for quiz takers. Other strategies we used to maximize user engagement were to theme the quizzes around entertaining topics and introduce them with enticing BuzzFeed-like questions. These techniques incentivized quiz takers with interesting, personal and shareable insights.
Career Fortune Teller:
'Career Decision Quiz'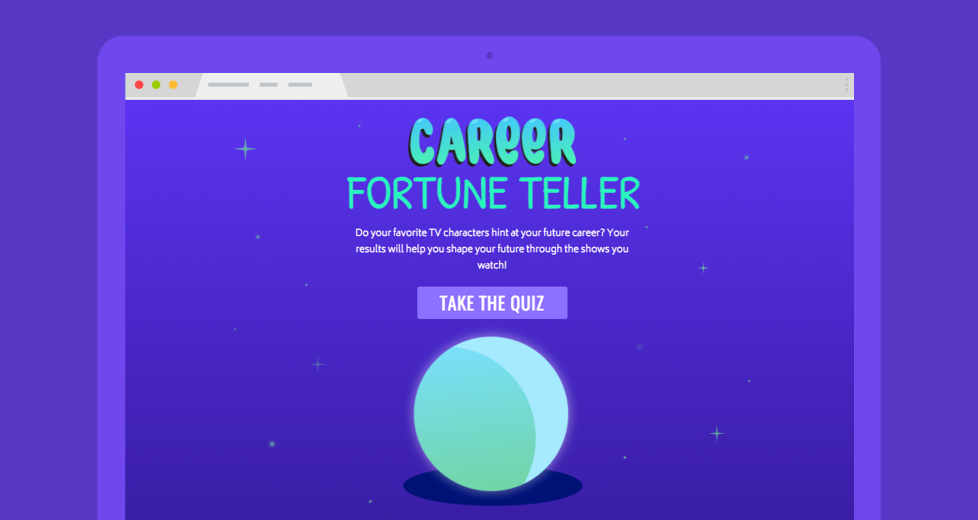 #SoulsieSquad Quiz:
'Audience & Identity Quiz'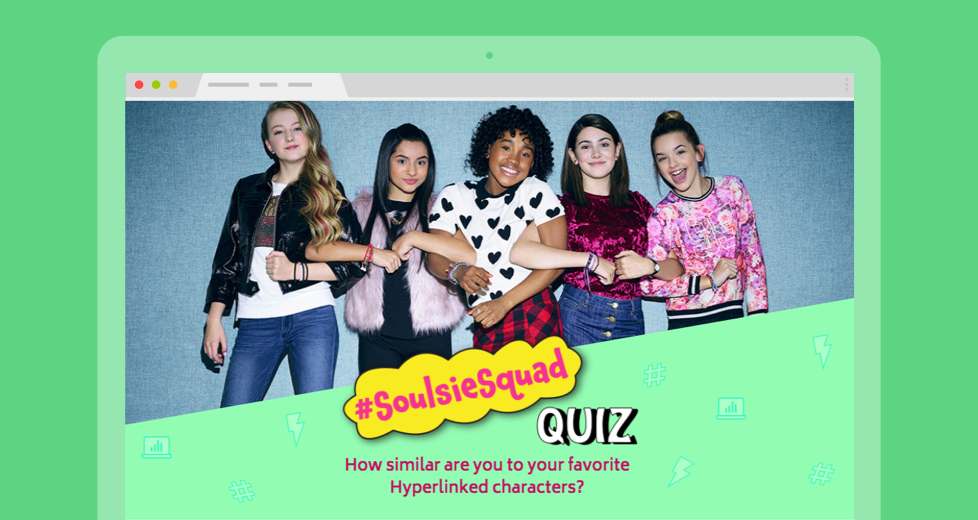 ✓

 

The Career Decision Quiz reached

542 survey takers

to measure the impact of watching

Hyperlinked

on their likelihood to choose to study or work in computer science in the future.

✓

 

The Audience & Identity Quiz reached

460 survey takers

to measure how viewers related to the characters on Hyperlinked in terms of personal identity and preferences.
The findings and what they mean for Google's CS Education in Media program is profiled in a USA Today article, along with USC's analysis of how computer science is portrayed in TV at large.
Read the article here
. You can also read the
findings here
.