Role:

 Lead Product Designer
Signafire builds content analytic products that enable users to analyze & visualize enormous sets of data. Data analysts use Aperture, Signafire's analytics platform, to manage and analyze their data in order to discover critical trends across multiple datasets. 
As lead Product Designer, I was tasked with building a setup feature for a custom dashboard that will enable analysts to discover and manage top-level trends across their datasets. In this case study, I outline the Discover, Define, Develop and Deliver phases of the MVP feature delivery.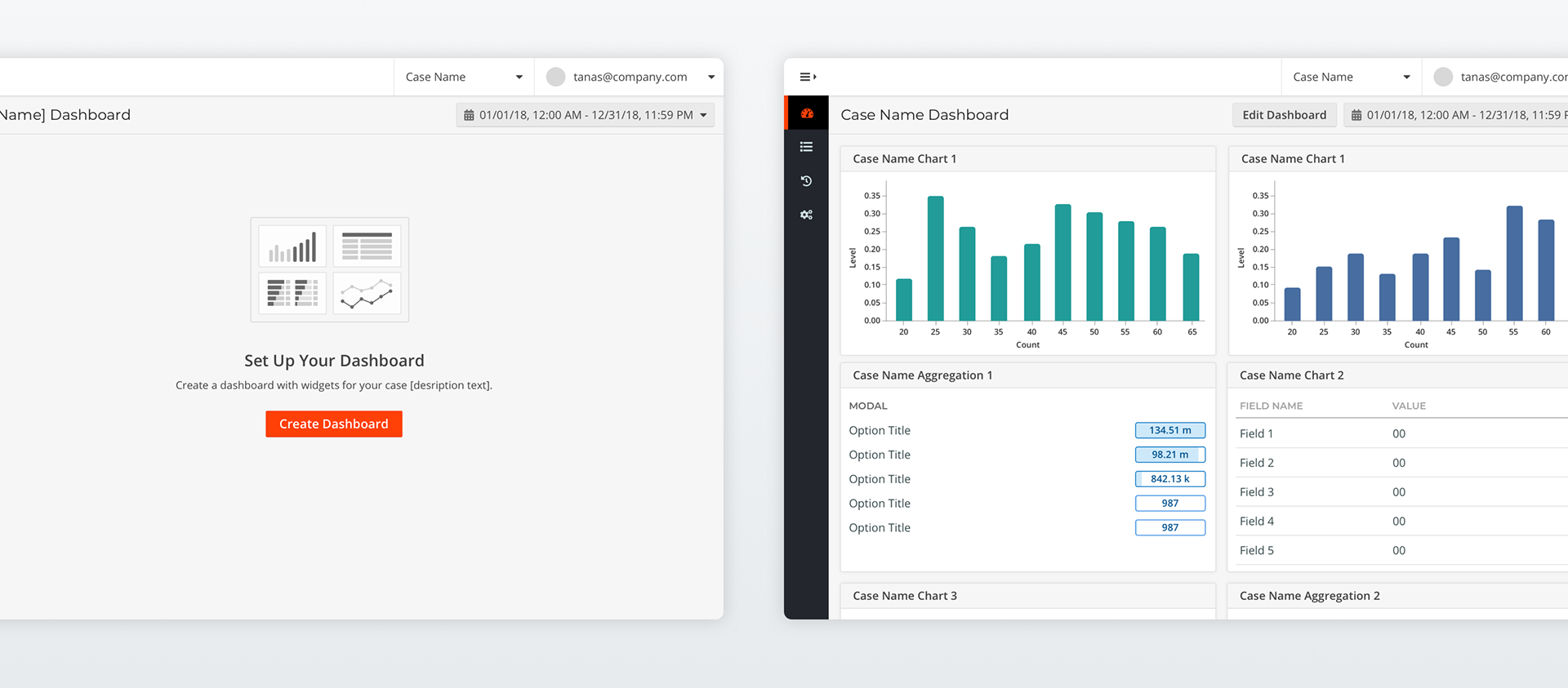 Analysts are responsible for searching through enormous sets of diverse datasets in order to spot critical trends. Currently, analysts use traditional keyword text searches to manually conduct their analysis. Building a dashboard would allow analysts to more efficiently & immediately discover insights across multiple datasets.
Design a dashboard feature for Aperture that allows analysts to set up custom data visualizations, decreasing the time it takes to find emerging insights in the data.  
Designing for B2B Products
As a Product Designer, my task is to align the business objective for building a custom dashboard feature with the mindset of the analyst by identifying key pain points and designing a solution that advocates for improving their workflow. I began by defining the objective against the assumed user goal to help frame the Discover phase.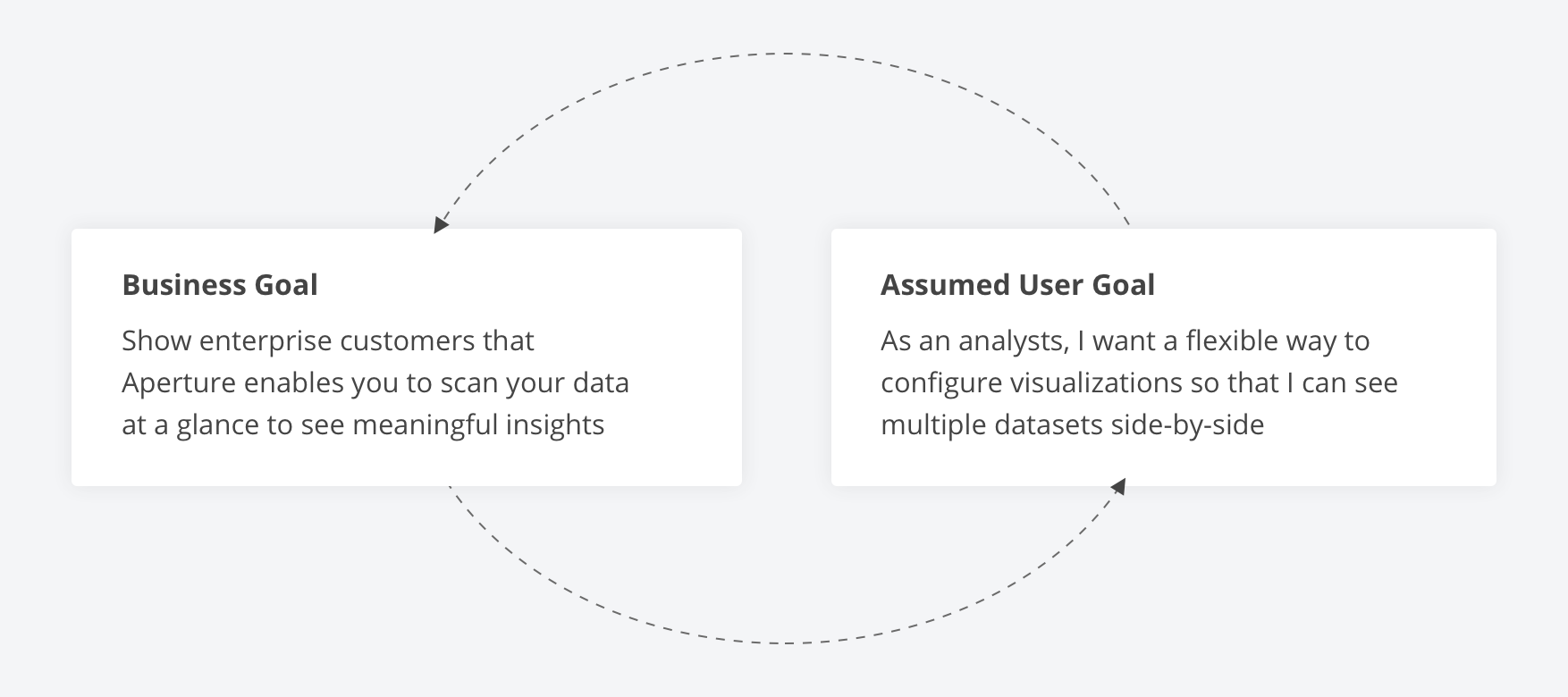 Developing Empathy | POV Framing
I kicked off the feature project by collaborating with my Product Manager to organize a Discovery session involving key project stakeholders, including internal analysts, the CTO and engineering managers. We used the session to define the use cases for building a dashboard feature in Aperture for both our internal analytics team and potential external clients.
With additional insights gained from our analytics team during the session, I used the POV Framework to help frame the problem against our initial assumed user goal. By framing both the internal and external analyst personas in the POV, I was able to communicate to my team how a dashboard feature can bring value to both personas. 

POV 1 – 
Ben is a data analyst at Signafire who is working on a case for a national organization. Each day when he returns to Aperture, he needs a way to see if any new and concerning trends have bubbled up in his social data so that he knows where to dive deeper into his analysis. 
POV 2 – 
Jennifer is an analyst at an automotive company who is investigating a safety issue. She needs a way to know if there are correlations between car manufacturing data and accident reports in order to anticipate potential safety hazards.
Understanding the Analyst Mindset
The POV framework helped validate the need for a dashboard. Next, I needed to more deeply understand the analyst's current workflow and job context in order to bring focus to what an analyst is actually doing to complete their tasks. 
To capture this insight, I held user interviews and contextual inquiries to understand how analysts currently find insights in the data. By creating these visual workflows, I showed how introducing a dashboard could offer a helpful entry point for analysts to dive deeper into the data earlier in their workflow while still considering their existing mindsets:

Through research and gaining a deeper understanding of the various contexts and use cases of an analyst's workflow, I reframed the user goal to reflect the insights I validated in the Discover phase.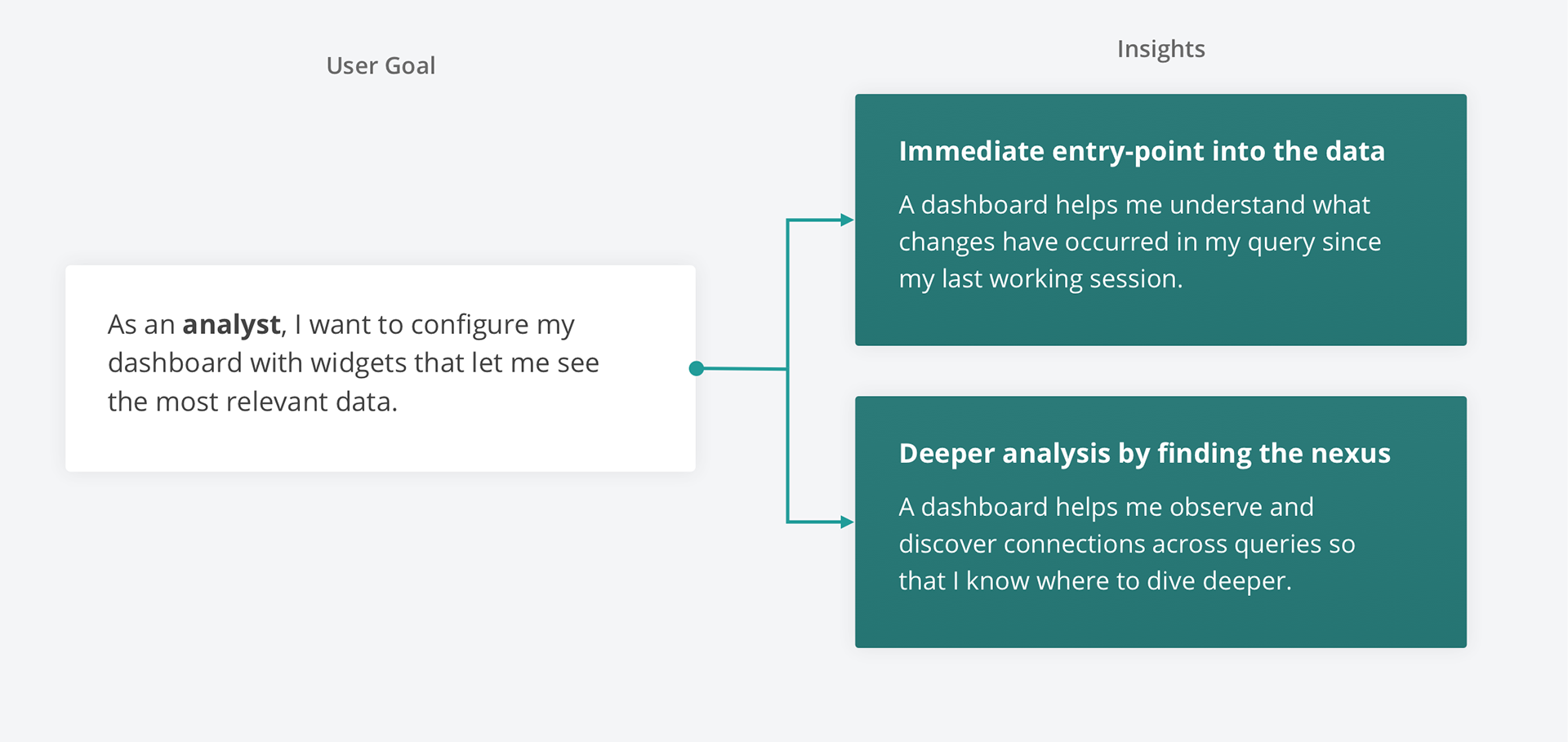 I then defined the metrics we would use to measure the design decisions and solutions we will explore in the next phase:
       •
Usability
– Ease of setting up & configuring a dashboard
       •
Adoption
– Time analysts are off the platform
       •
Value
– Usefulness of data visualizations

Designing for Action | Task Flows
Before I dived into exploring screen solutions, I focused on defining the distinct steps the user will take to successfully complete the set up dashboard task. The task flow is a lean tool to clearly communicate to my team early design decisions before diving deeper into higher resolution flows and wireframes. 

Rapid Feedback | Sketching
After validating the task flow, I used pen-to-paper sketches to communicate how the task flow would translate to screens. The sketches were vital in receiving rapid feedback from the team, especially in defining the requirements each widget type had in the 'Add widget' steps.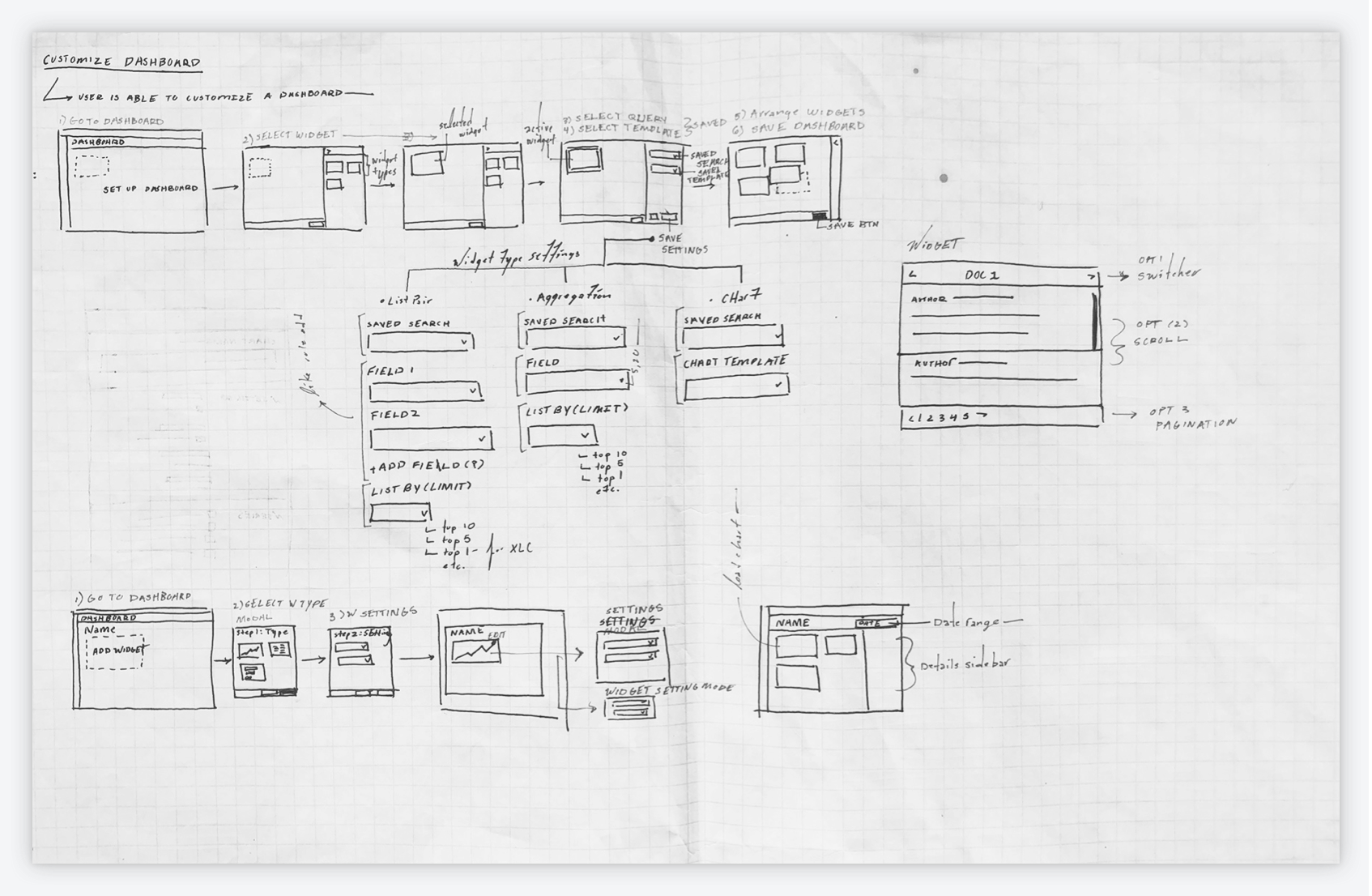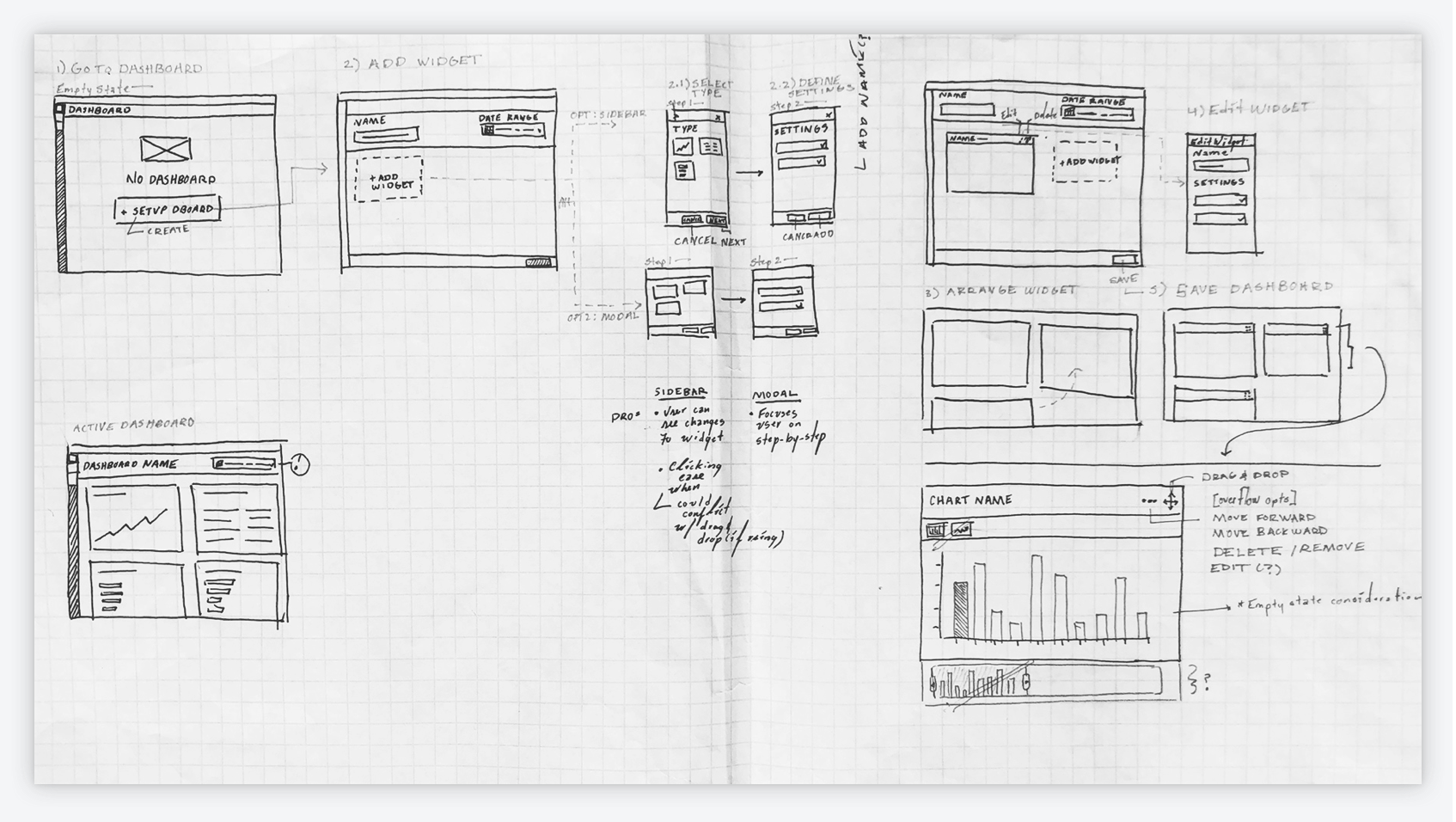 Wireframing Flows & Patterns 
I designed the blueprint of the feature experience by creating wireframes of each screen of the set up flow. The wireframes communicated how visual elements and interaction will provide entry points into each step of the set up.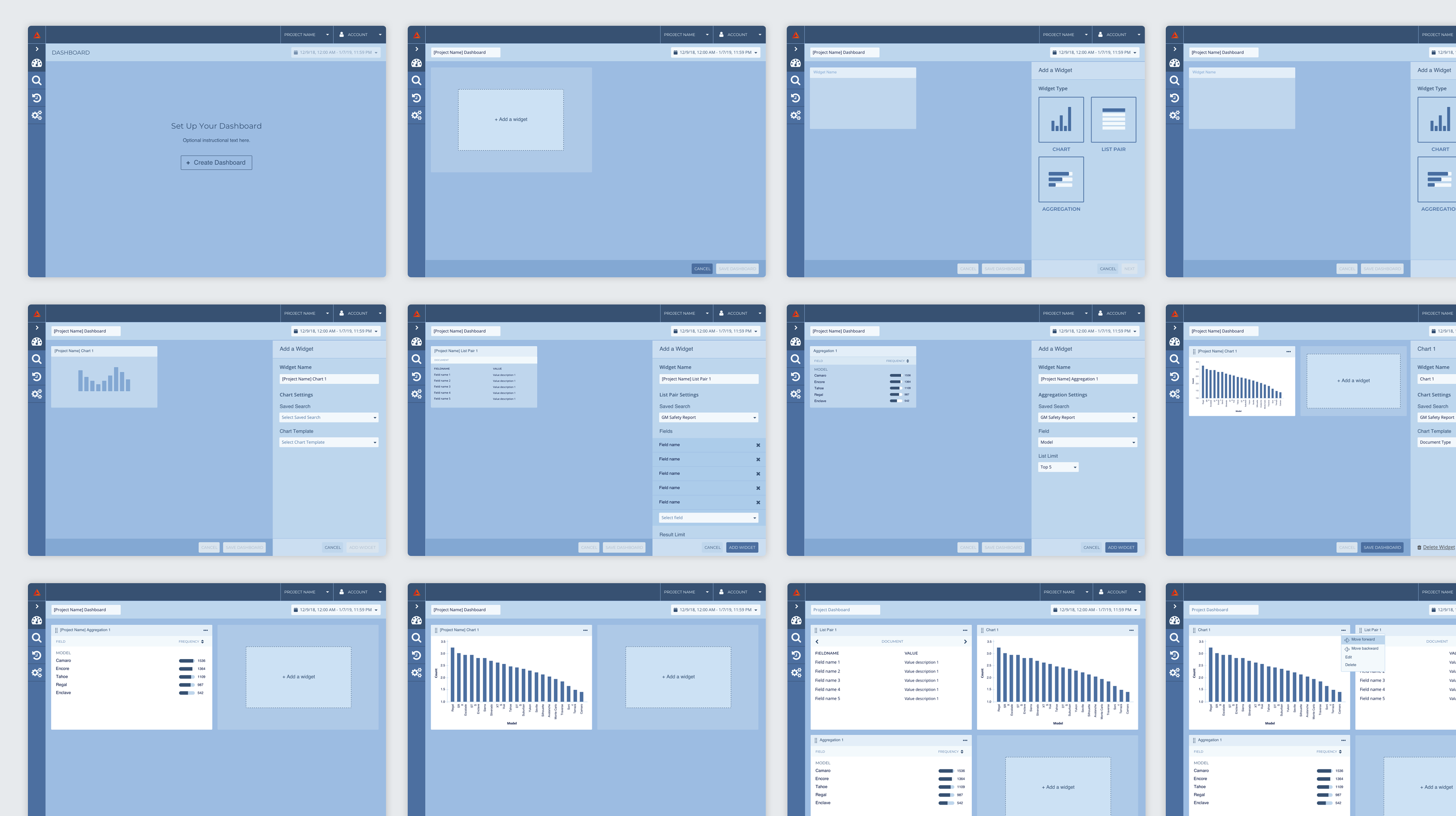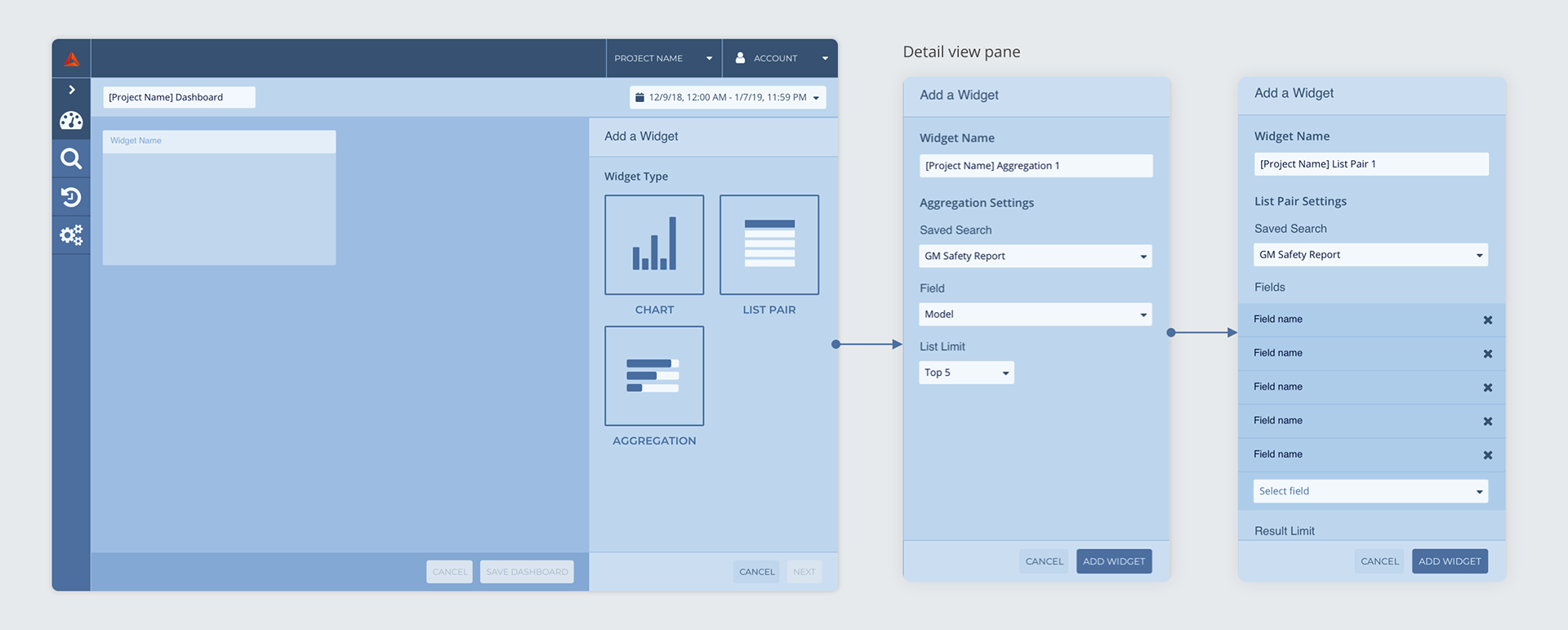 To understand how analysts will use the custom dashboard feature, I conducted usability tests with three of our internal analysts using a mixed-fidelity clickable prototype. During moderation, I measured the success rate for each task I instructed the user to complete. This metric helped support the 'Ease of use' success metric I set in the Define phase. By measuring and moderating expectations of users through the test, I was able to validate the overall usability of the set up process and found areas in the flow that needed improving.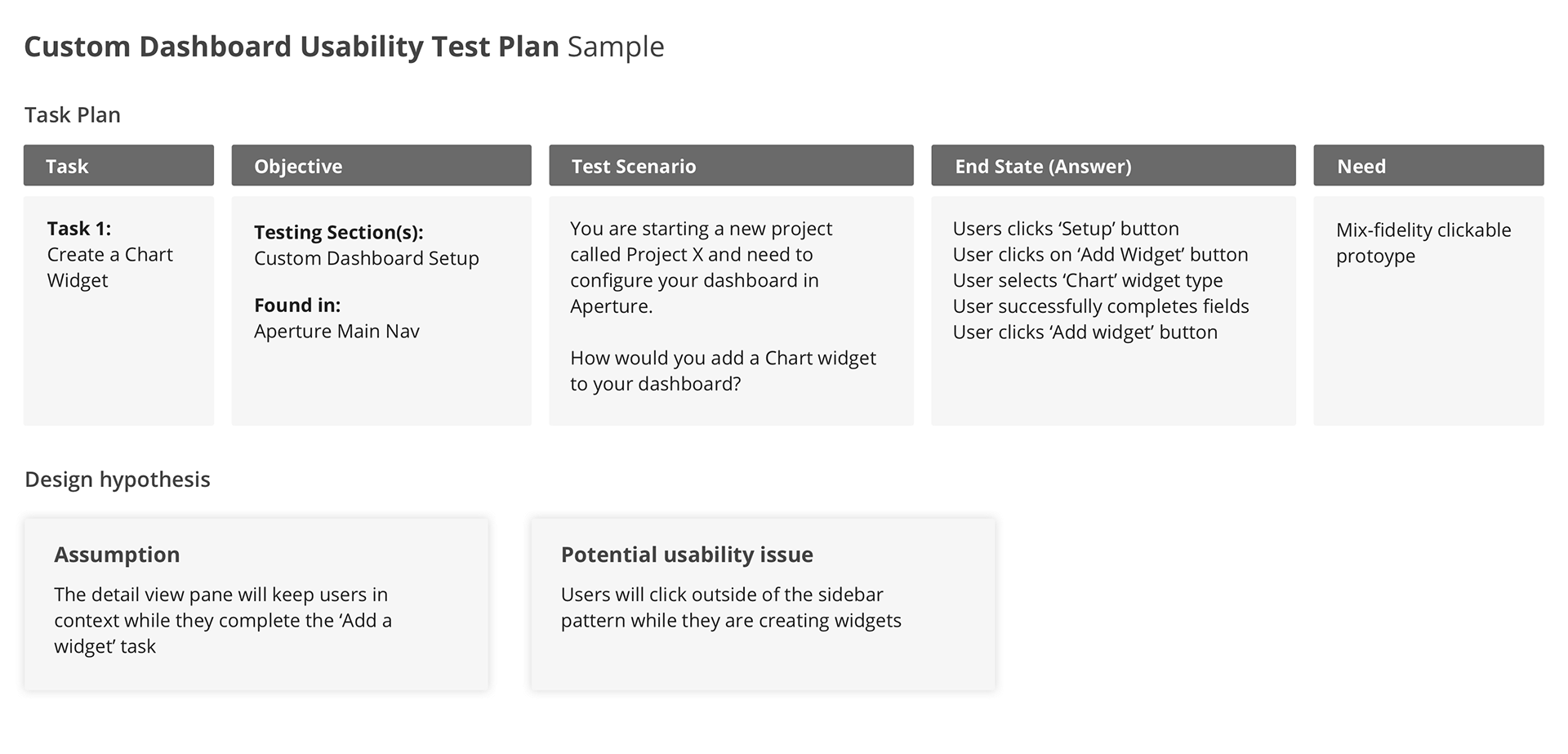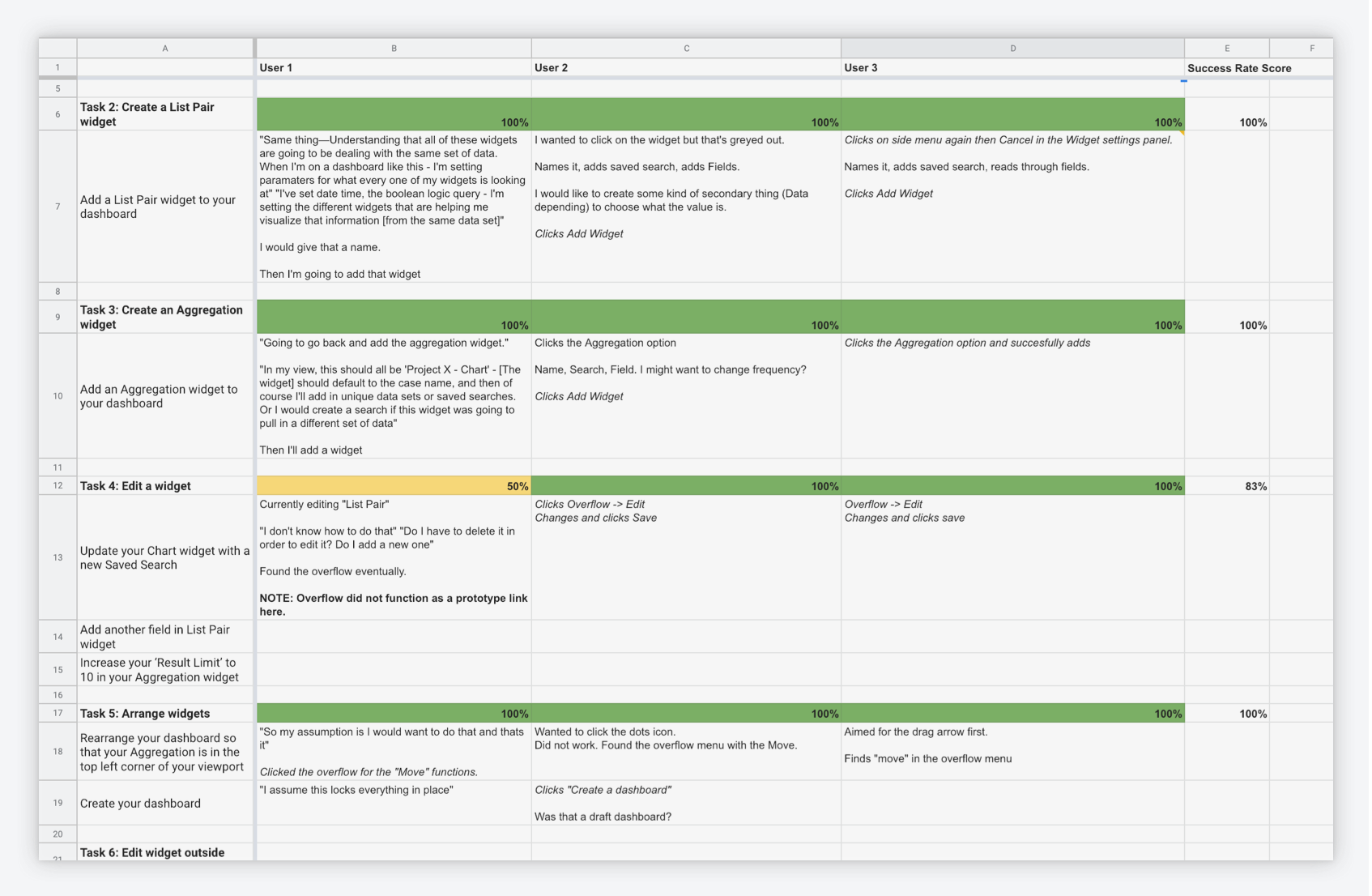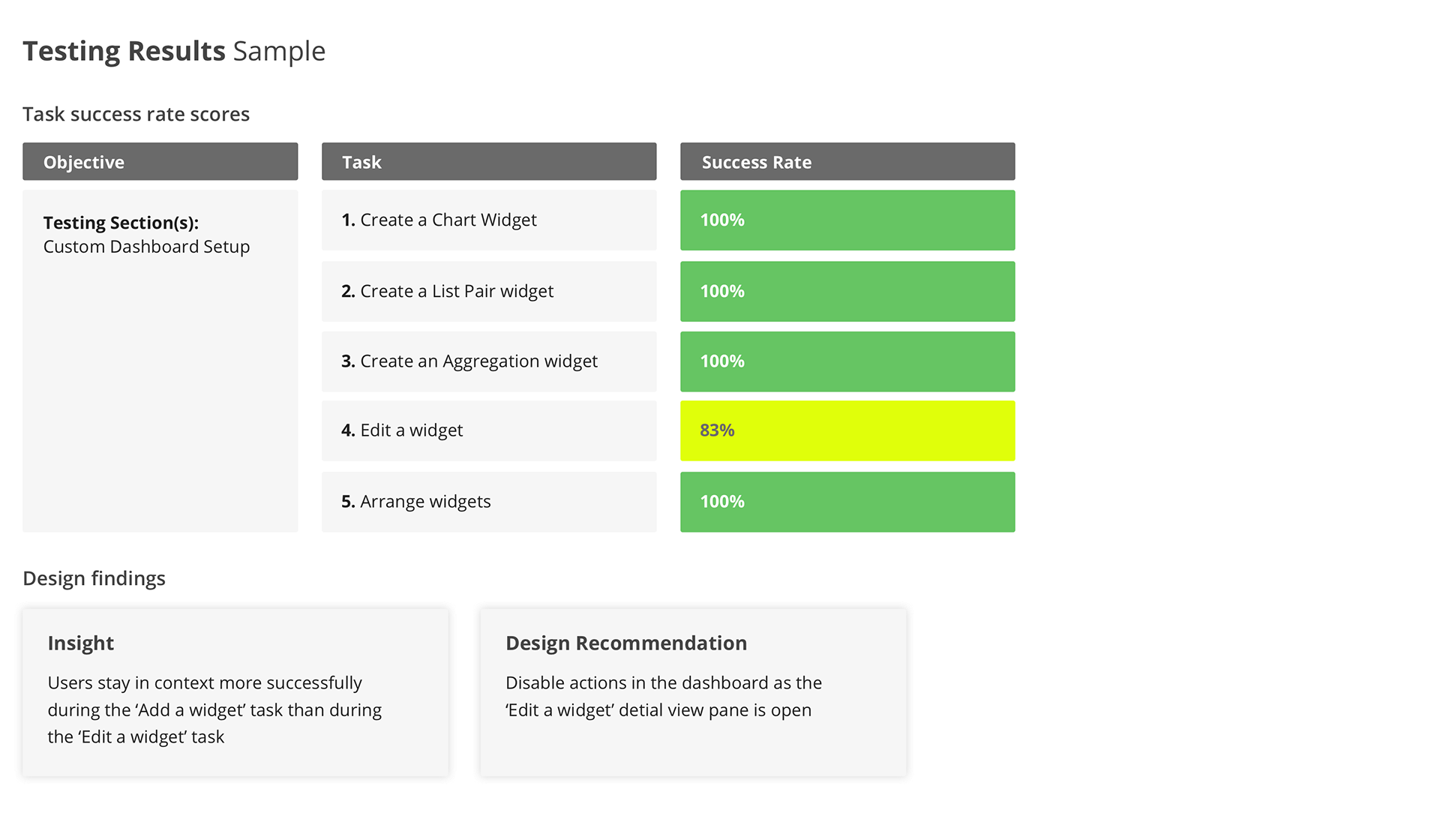 Once all iterations were made to the prototype, I began work on the UI. It was essential to stay aligned with my design team by receiving feedback on patterns and components throughout the design build. In addition, I worked closely with our front-end engineering team to understand technical constraints and communicate how micro-interactions would translate to development.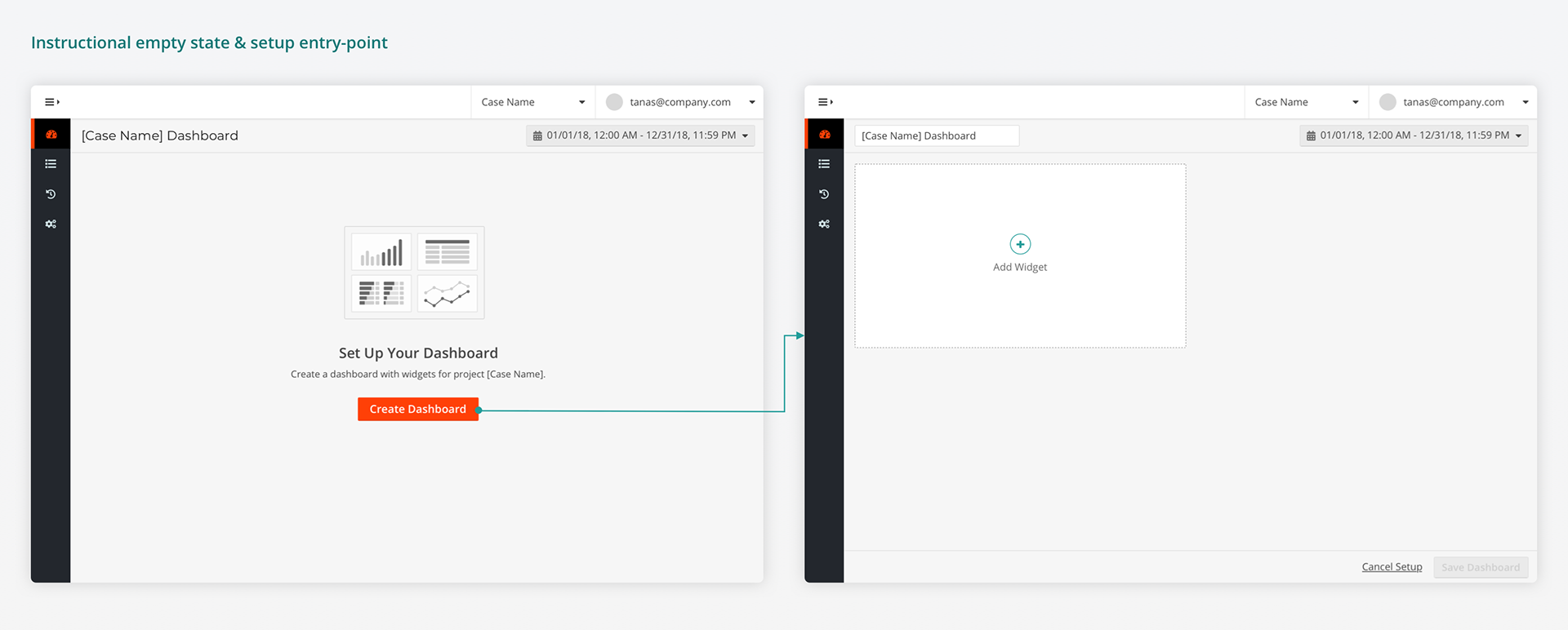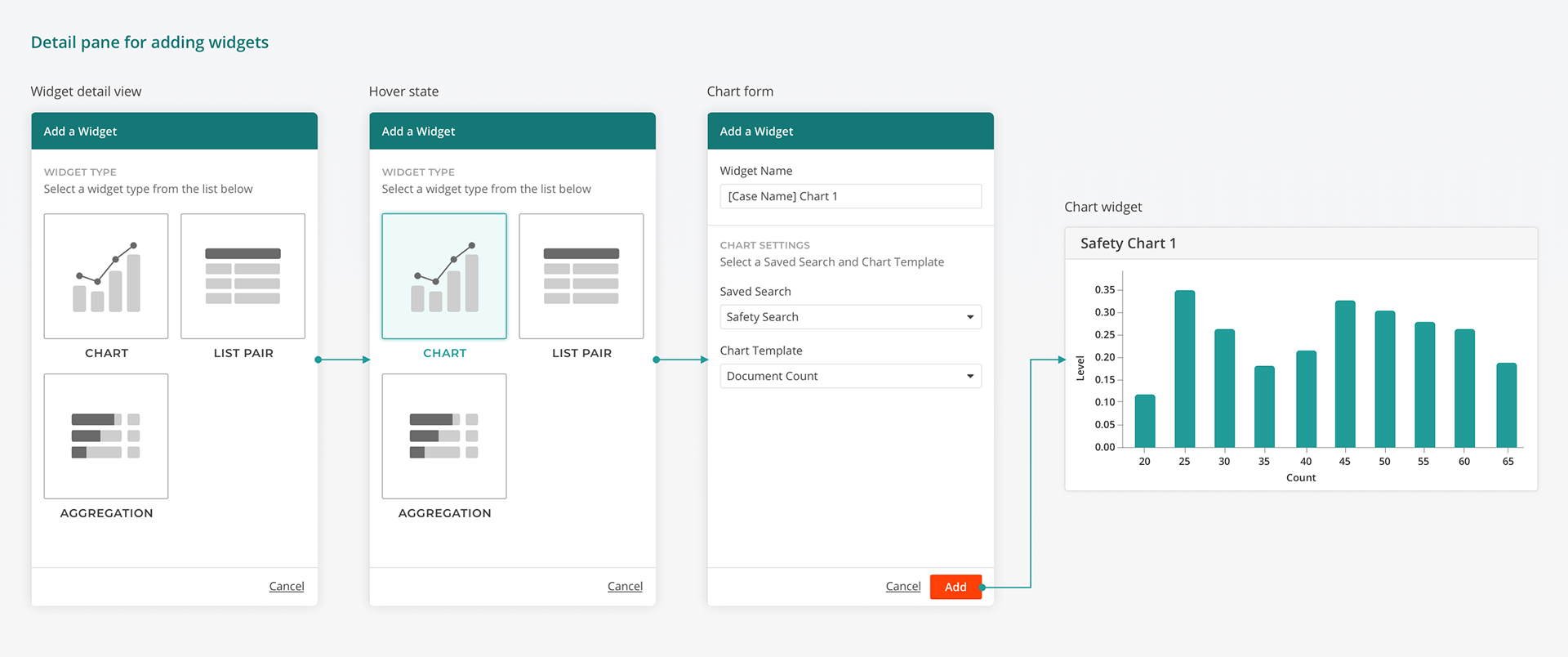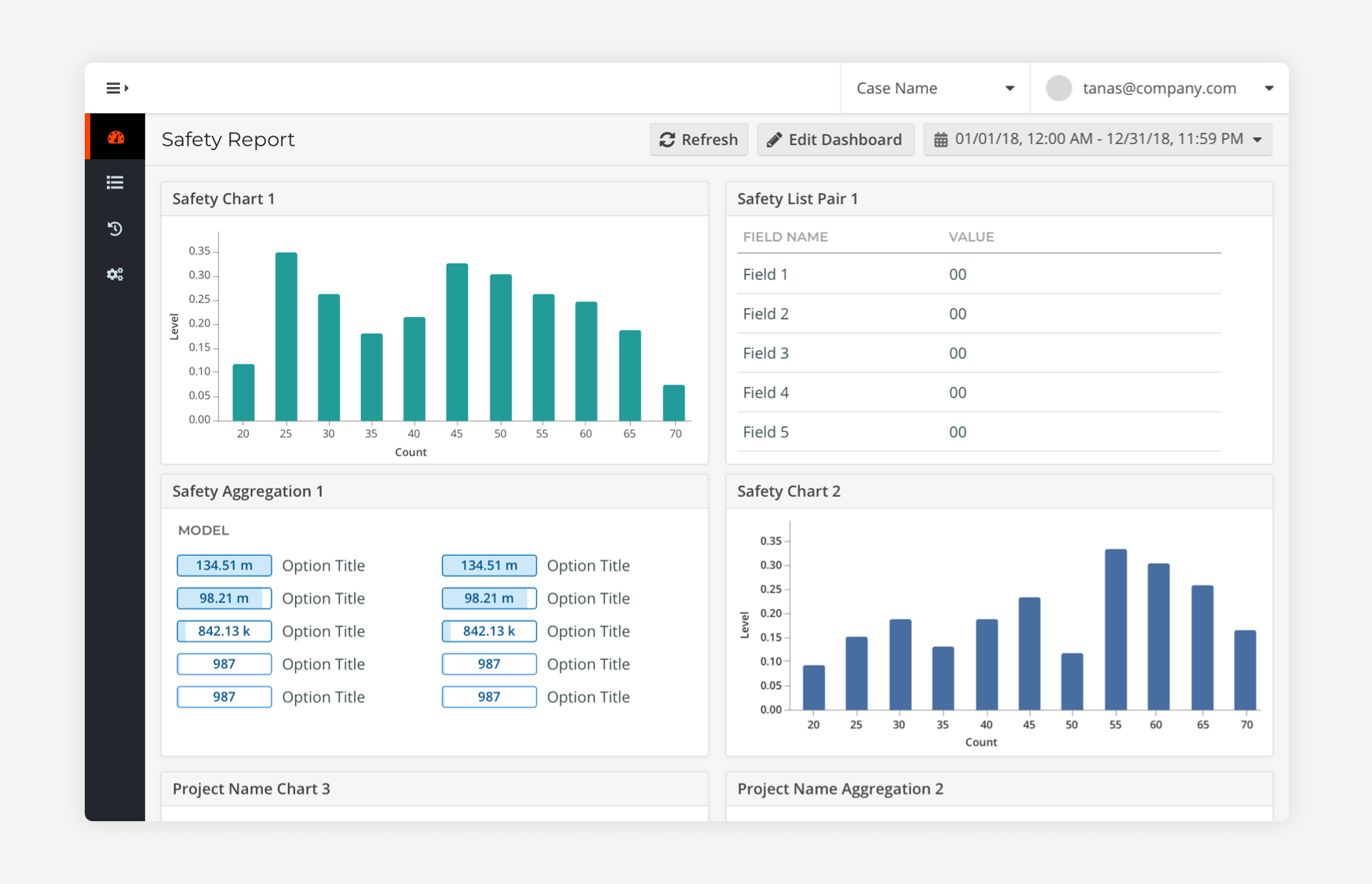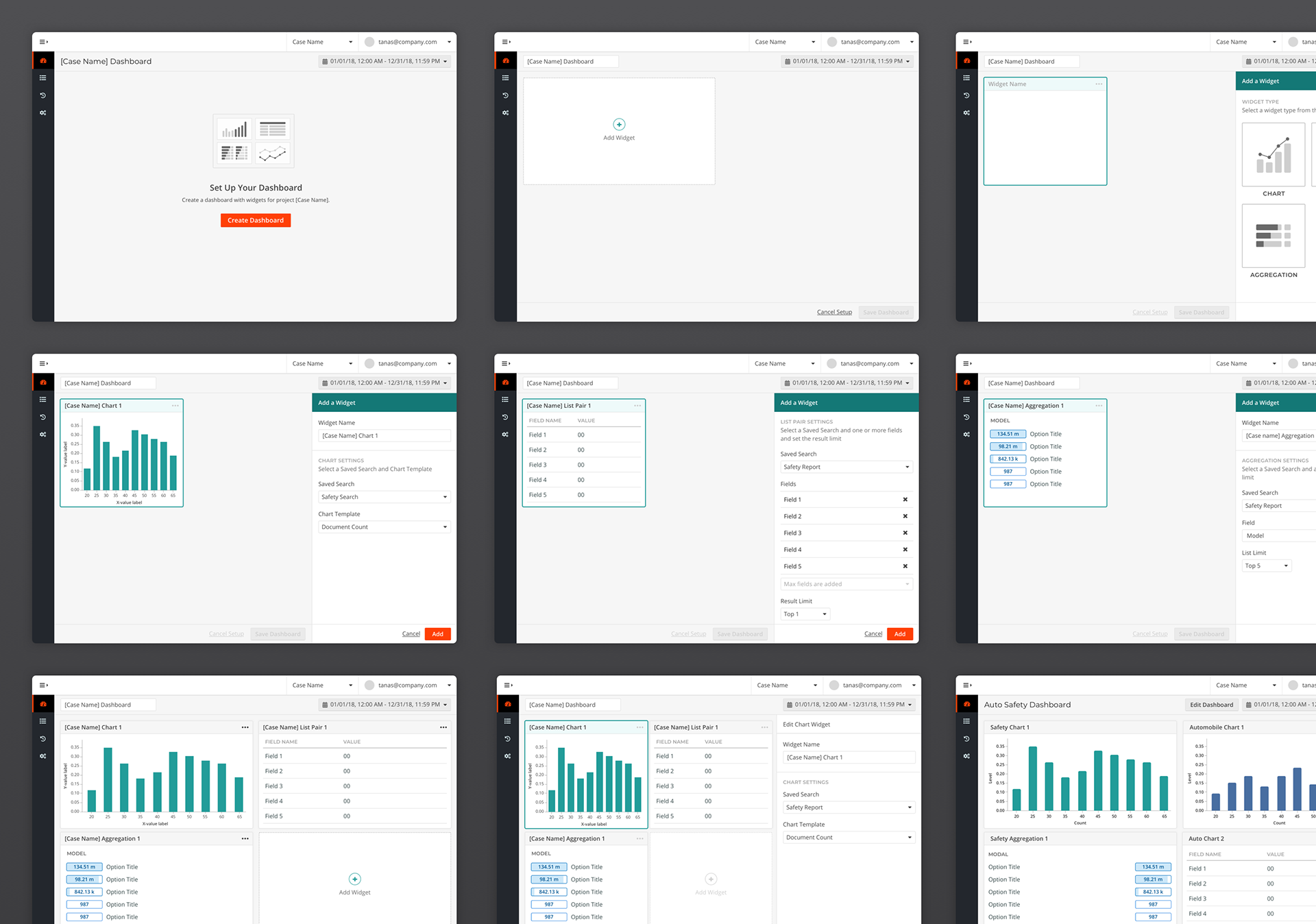 The MVP Custom Dashboard feature is currently in development by our front-end team. To prepare for the MVP launch, I've prepared a series of metrics and created a plan for how we will measure the success of the feature once it is in use. 

A successful outcome from the feature development was a stronger and tested process for building MVP features for Aperture. By engaging and keeping track of the touchpoints where we involved multiple teams not only improved our design and product workflow, but motivated cross-company teams to feel engaged, helpful, and informed.
​​​​​​​
✓

Improved the Discovery process by introducing stronger methods for validating user goals
​​​​​​​
✓

Introduced stronger dev collaboration by creating time for deeper conversations about design and implementation
​​​​​​​
✓

Improved engagement with Analytics team, who felt included in the design process by participating in discovery sessions, user interviews and usability testing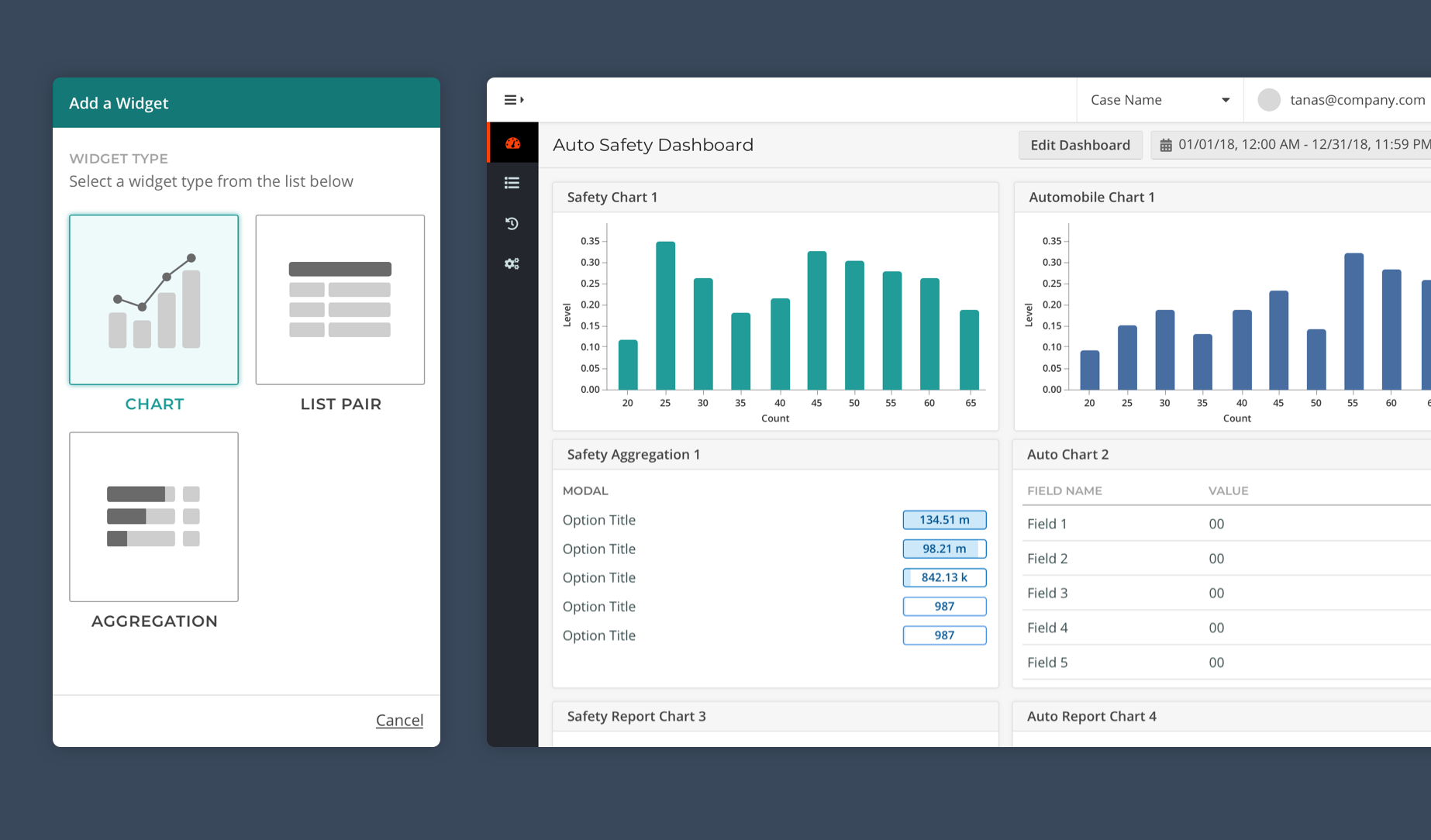 © 2019 Signafire Technologies All Rights Reserved